NOCTURNES TICKETS ON SALE!
On November 7, Skin Horse Theater is launching its first original work in two years, NOCTURNES (I-III).  
NOCTURNES is a swirling outer-space fever dream that transports you from the mission control room of man's first space flight, to the microgravity environment of a space station, to a cosmic landscape lush with planets, galaxies and nebulas.  Countdown to launch has begun… we're loading into the Cosmodrome, getting our spacesuits on, and preparing to blast far away from Earth!
Tickets for NOCTURNES are on sale now
!  Click on over to 
TicketLeap
 to get yours before they're up, up, and away!  Nocturnes premieres at the Cosmodrome at 3625 St. Claude Avenue on November 7 and will run Thursdays-Saturdays in November at 8 PM (with no performance on Thanksgiving, November 27th).  Get your tix before the clock runs out!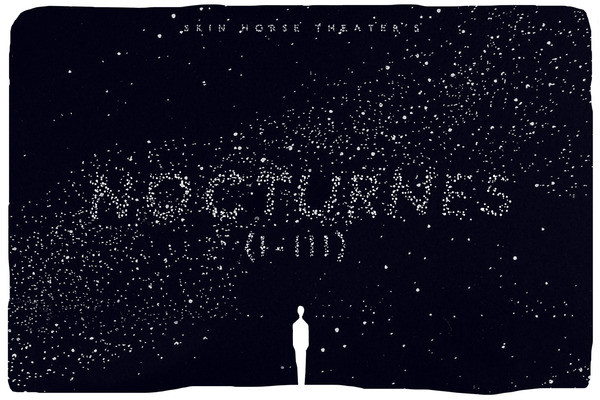 3625 St. Claude     /    $15
Thursdays-Saturdays from November 7 – December 1 at 8 pm
(No performance on Thanksgiving, Nov. 27)
Directed by Nat Kusinitz
Devised by Skin Horse Theater
Featuring the performing talents of:
Brian Fabry Dorsam
Rebecca Elizabeth Hollingsworth
Owen Ever
Shannon Flaherty
Veronica Hunsinger-Loe
Evan Spigelman
Matt Standley
Set Design by Phil Cramer
Sound Design by Brendan Connelly
Light Design by Evan Spigelman
Costume Design by Veronica Hunsinger-Loe
Stage Management by Renee Anderson
Production Management by Anna Henschel
Check out our Facebook event or follow us on Instagram (skinhorsetheater) and Twitter (@ SkinHorseThtr) for more!


← Go Back